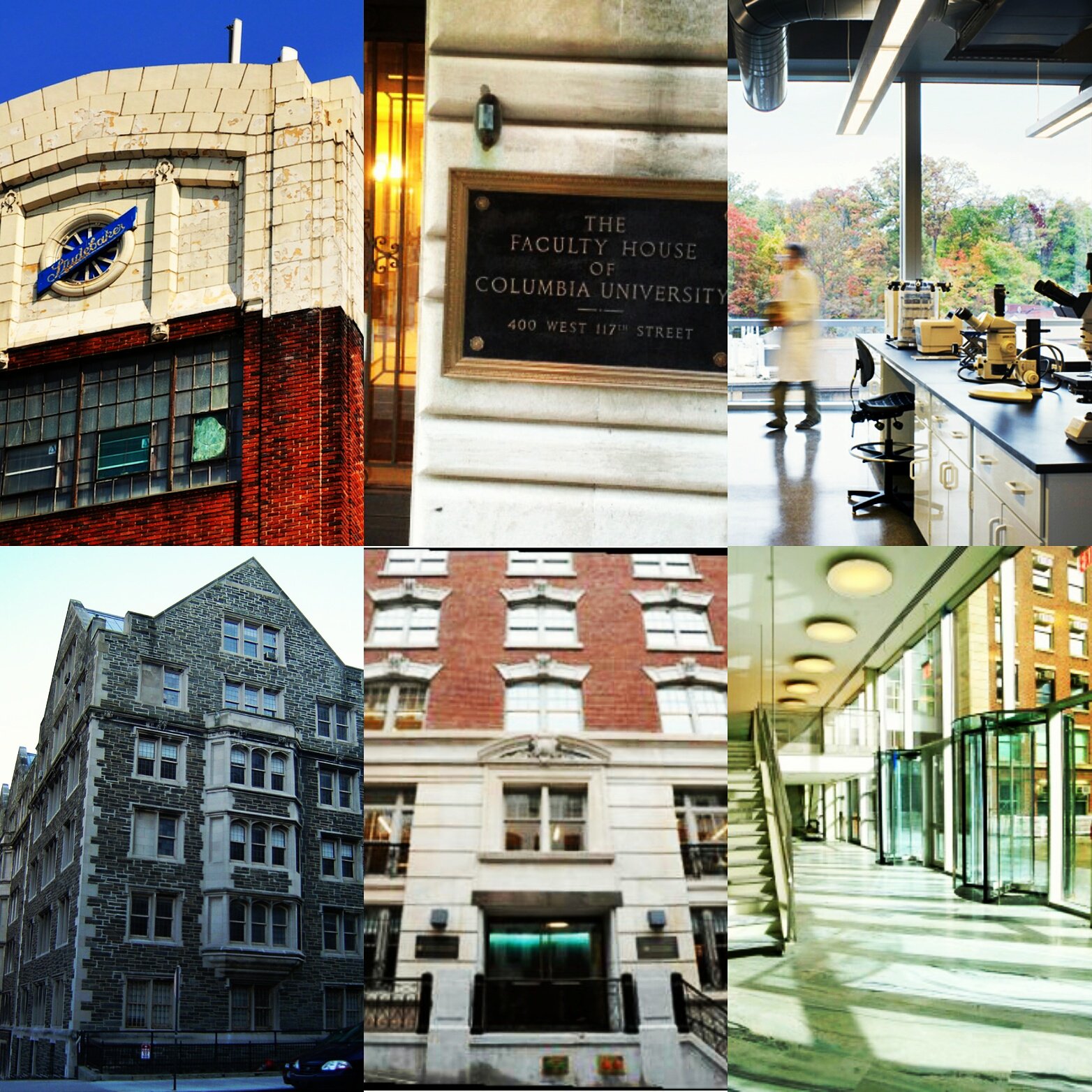 Columbia's commitment to building green and clean construction involves the incorporation of renewable materials and designs in an energy-efficient and sustainable way. Columbia has become involved in the Green Roofs initiative, which aims to contribute to the creation of sustainable environments. Green roofs provide partial solutions to several environmental problems that are common in urban locations, including storm-water management, the reduction of pollution and improved air quality. Making a roof green can also reduce costs on energy and roof upkeep, as well as insulate and protect buildings. Grass and plants growing on green roofs take in carbon dioxide from the atmosphere and turn it into oxygen, helping to cool temperatures in the hottest months and clean the air supply. 
Exteriors and Historic Preservation
Columbia is also working on an exteriors and historic preservation project (EHP), which was implemented to improve Columbia's sense of place on campus and in the Morningside Heights neighborhood, by repairing and restoring its building fabric. EHP restoration often involves the replacement of damaged and missing building elements, and the cleaning of building facades, effectively 'recycling' existing buildings, rather than demolishing old ones and building new ones. In this way, EHP helps the University to reduce its carbon footprint and its embodied energy, or the quantity of energy required to manufacture a product, material or service, or to supply it to the point of use. 
LEED Building Awards
Columbia is making drastic efforts in increasing the number of buildings on campus with LEED (Leadership in Energy and Environmental Design) certification, the nationally accepted benchmark for design, construction and operation of high-performance, green buildings. Building energy use on Columbia's campus is a large percentage of total energy use values, therefore Columbia is making a strong push toward the LEED certification of buildings on campus. In just the last few years, seven Columbia buildings earned LEED certifications. They include environmentally sustainable renovations of the Columbia Alumni Center (Gold), Faculty House (Gold) and Knox Hall (Gold) on the Morningside Heights campus, and individual floors of the Rosenfield Building (Gold) at the Mailman School of Public Health, and the Studebaker Building (Silver) on the Manhattanville campus. Newly constructed, LEED-certified buildings include Morningside's Northwest Corner Building (Gold) and the Gary C. Comer Geochemistry Building (Silver) on the Lamont-Doherty Earth Observatory campus. 
LEED at Manhattanville Campus
Columbia's environmentally sustainable design and overall project plan for its 17-acre Manhattanville campus in West Harlem has earned LEED® Platinum - its highest designation and the first LEED-ND Platinum certification in New York City, as well as the first Platinum certification for a university campus plan nationally.